Tel: +1 204 675 8807
Fax: +1 204 675-2795
215 Kelsey Boulevard
Churchill
Manitoba, Canada
R0B 0E0
Toll Free: 1 877 558 4555







Whether you have come to Churchill in a tour group or you are here by yourself, whether you are looking for a formal dinner experience or some lighter fare, the Seaport Restaurant and Coffee Shop have you covered. Fully licensed, the dining room has a seating capacity of 72 while the coffee shop can accommodate 36 more.
Our menu has something for everyone and it is all delicious! From Filet Mignon to Seaport Burgers (and everything in between) the Seaport Hotel caters to all tastes.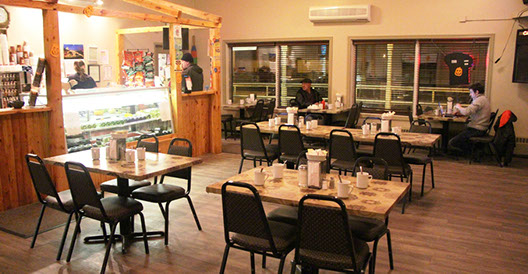 RECOMMENDATION:
Try the full rack of Jack Daniels Ribs, a specialty of the house - Awesome!
HOURS OF SERVICE:
7:00 am to 10:00 pm nightly, all year round. Dine in or Take Out!

​ Copyright © 2017 Seaport Hotel, Ltd. All Rights Reserved.